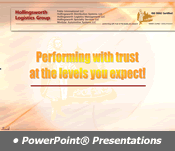 Internal communications targets your most important asset — your employees.
Your employees always want to know what is going on with their company. They want to help make the organization stronger, more efficient, more profitable and a pleasant place to work.
Make sure they are a driving force for your company's success. Let us help you reach them with communications they will readily understand. We prepare your message in terms they will welcome, whether in print, face to face, on-line or in video.
Almost every employee wants to do a good job. Also, they want to feel part of the corporate team. Help them understand their role and how they can make the company grow. Their success means your success as well.
We are Architects of Communication!